"5days 5hours on July 1891Cafe +table"H"/1day Yoga Retreat" (HOUSE1891 -Hayama)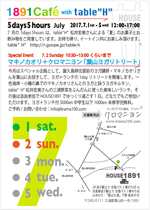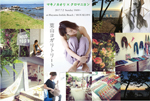 We serve summer special sweets and drinks by Hiromi Matsui-table"H". "krama"knyong: Cambodian krama and Cambodian tools & baskets.
1st(sat)~5th(wed) July 2017 12:00~17:00
Hayama Yoga Retreat by Kaori Makino+"krama"knyong
We held 1day Yoga retreat by Kaori Makino +"krama"knyong.Yoga+Kirtan(by Kaori Makino)+Began Lunch(by Hiromi Matsui)+Talk session imcluded.
3,000en /1000en under junior high school student / Free for preschool child
On 2nd July, 10:30-15:00
Where : Isshiki Beach Hayama/ HOUSE1891