"Cambodian Almighty scarf,KRAMA in Kyoto"exhibition (GOOD NATURE STATION -Kyoto)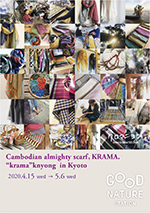 15th(wed)April~ 6th(wed)May 2020 10:00~20:00
GOOD NATURE STATION, a complex that focuses on beauty and health, just opened this spring in Kyoto, will hold the Krama exhibition. The venue is KASOKEKI on the 3rd floor, a spacious and comfortable space. Newly and Basic kramas and Cambodian baskets are lined up.

Wakana Morita will be there for several days during the period and will tell you how to wear and use the krama in various way. So please feel free to ask.
Hopefully that Krama will help you in your daily life in Japan.
*Morita Wakana will not be in the store.
Please come with paying attention to your own health.
GOOD NATURE STATION (3F) "KASOKEKI (Kasokeki)"
〒600-8022 2Kyoto, Shimogyo-ku, Kawaramachi-dori Shijoshita 2-chome Inaricho 318-6
Contact: 075-352-3712