Online shop news -krama fabric mask available(2020.4.25~)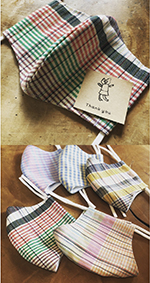 We started to handle the krama fabric masks in our online shop.
http://krama.shop-pro.jp/?pid=150544711
* fixed price of 1200 yen~ will be sold at a special price of 900 yen (excluding tax)~.
Size: L=W17cm×H14cm, M=W14cm×H12cm, S=W12cm×H10cm
Material: Surface/handwooven krama fabric(cotton100%)
Medium surface/andwooven krama fabric or ndwooven krama fabricgauze fabric(cotton100%)
*Shipping fee is up to 2 sheets, standard mail-100 yen nationwide (excluding tax).
We also offer a krama mask gifts to customers who have purchased more than 7,000 yen(w/tax).