Notice of reopening of store operations.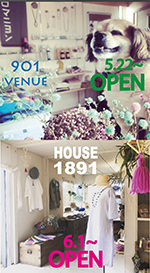 In order to prevent the spread of COVID-19 infection, the store and gallery of "krama"knyong in Hayama, which was temporarily closed from the beginning of April, will resume operations sequentially while taking measures to prevent infection.
When resuming business, we have a few requests.
◎ Please come to the store as much as possible without paying attention to your health.
◎ Please refrain from visiting customers who are not feeling well or who have a fever.
◎ Thank you for visiting our store wearing a mask.
◎ Since a disinfectant is installed at the entrance, please disinfect your hands as appropriate.
◎ When entering HOIUSE1891, shoes are prohibited.We have slippers, so please change your shoes.
Reservations are also accepted for visits and enzymatic brown rice lunches.
We will also give thorough consideration to ventilation and hygiene in the store, thoroughly wash our hands and wear masks.
We appreciate your understanding and cooperation.
........
◎ A Krama shop [901venue] is a small shop along the seafront street. Open weekends only,will resume slowly from Friday, May 22nd.

OPEN Every weekend, Friday, Saturday and Sunday 3 days 11:30~17:00.
901venue by "krama" knyong
901 Horiuchi, Hayama Town, Miura District, Kanagawa,#240-0112
.......
◎ The atelier gallery [HOUSE 1891] is scheduled to open "5days 5hours" In June.
Krama and Krama Mask for summer,Cambodian tools, enzyme brown rice lunch and cafe will be available.

OPEN 1st-5th of every month 12:00~17:00.
HOUSE1891 by "krama" knyong
1891 Isshiki, Hayama-cho, Miura-gun,Kanagawa,#240-0111
HP: www.krama100.com